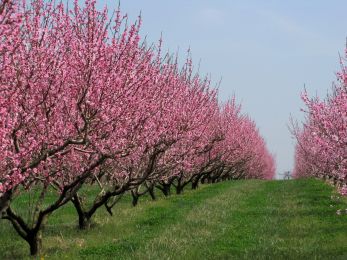 FRANCE: SIMPLY THE BEST
SPRING IS HERE
France is bursting: the fruit orchards in Provence, vineyard leaves in Burgundy and Bordeaux, walnut groves in the Dordogne, and sunflowers surging up amongst the castles of the Loire Valley... It's time to start planning your trip to France. Will it be the rich history of Normandy? The Emerald coastline of Brittany? Or the flower-filled villages of Alsace? Contact us - we can help you decide!
CYCLING , WALKING SELF-GUIDED & CUSTOMIZED TOURS THROUGHOUT FRANCE
With our years of in-deep local experience, we provide superb service and advice, and take care of all the details so your holiday is totally worry-free and just the rich memory-maker it should be.

We offer a range of high quality holidays in:

Provence

,

Loire Valley

,

Burgundy

,

Alsace

,

Dordogne

,

Normandy

,

Brittany

,

Bordeaux

,

Canal du Midi

.. or maybe you prefer something a little different, and want to work on a customized dream tour with us. We pride ourselves on our ability to fulfil your dreams! ...

STOP DREAMING AND CONTACT US!
The Bike Tours and Walking Tours are private (come as a couple, on your own, Family or with a small group of friends - you aren't joining a group); our Guided Wine a Culture Tours are either private, or choose one of our tours where you join a small group for the days. Whatever tour you choose, the start date is up to you. All our tours can be customized, including length, level of difficulty, and type of accommodation.
LET US HELP ORGANIZE YOUR NEXT VACATION IN FRANCE!
ALL OUR TOURS CAN BE CUSTOMIZED FOR YOU